Samsung has introduced some glimpses of a new smartphone while expanding its F series. The name of this smartphone is Galaxy F13 which will be a budget smartphone. Samsung's F series has been made keeping in mind India and this phone will also be launched in India online store Flipkart, where the South Korean tech giant has revealed the key specification, design and release date of the device.
the Samsung galaxy F13 has a 6000mAh battery with 15W fast charging. As seen in the image available on the promo page of the device, the Galaxy F13 will be launched in at least three colors and available for purchase in India from June 22. It comes with a Full-HD+ LCD display.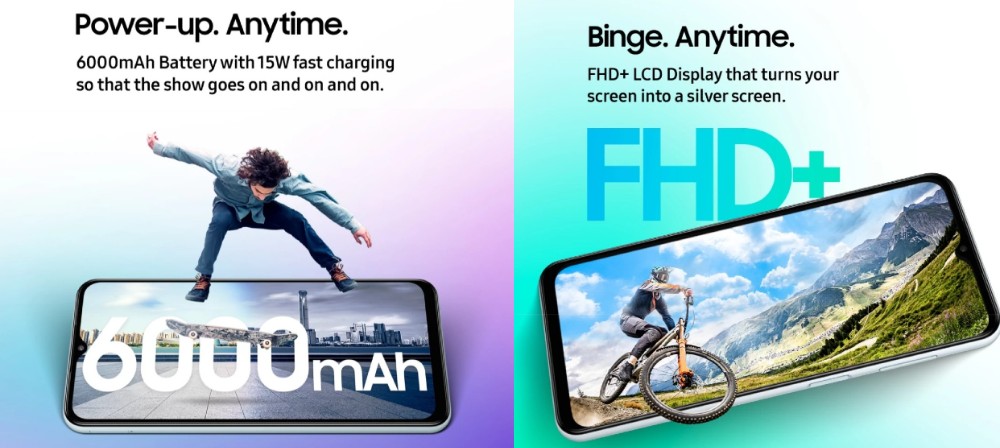 The smartphone will have 8GB RAM with the RAM Plus feature, which sounds like newly virtual RAM expansion. Samsung f13 will also come with an Auto Data Switching feature.
In the image above, it is shown that the phone has the option of a C-type USB cable and 3.5mm jack at the bottom. Triple camera setup has been installed on the back of the phone. The image available from Flipkart also confirms the device will come with a side mounted fingerprint sensor.
Also read : Samsung F13 full specifications
The company has not made any mention of the chipset at the moment, but thanks to Geekbench, We know it will have the Exynos 850 SoC.
Although it was rumor that the Samsung F13 would be a variant of the Galaxy M13, which comes with an 5000mAh battery, a HD+ screen, and 4GB RAM. Although there are likely to be many differences between the two phones, this device will be officially launched within four days after which it will be possible to see all the specifications.
May you also like : list all F series smartphones with specs