( Image source)
if you running a small business, college, or school then tracking attendance of every single employee or teacher is very difficult task, and it is the right place if you searching for alternative of Biometric time attendance machine. For properly manager you organization you need an attendance tracking application for android smartphone.
If start finding a perfect attendance app on android's playstore, you see hundreds of attendance track tools and suddenly grow a question in your mind – which is the best attendance app for android? don't worry we've compiled a list of the best attendance Tracker app for all Android smartphone and tablets.
Best Teacher and Employee Attendance App for Android
1. Attendance Tracker

It is a best attendance tracking software for android phone. The Attendance Tracker app make easy to Tracking students or teacher attendance without any paper and pen. With this app you can virtually track and Export attendance overviews to Excel, allows you to Import contacts from your contact list or from Google Docs Spreadsheet. Another cool features of this is – Backup and restore attendance data from your SD card.
2. Attendance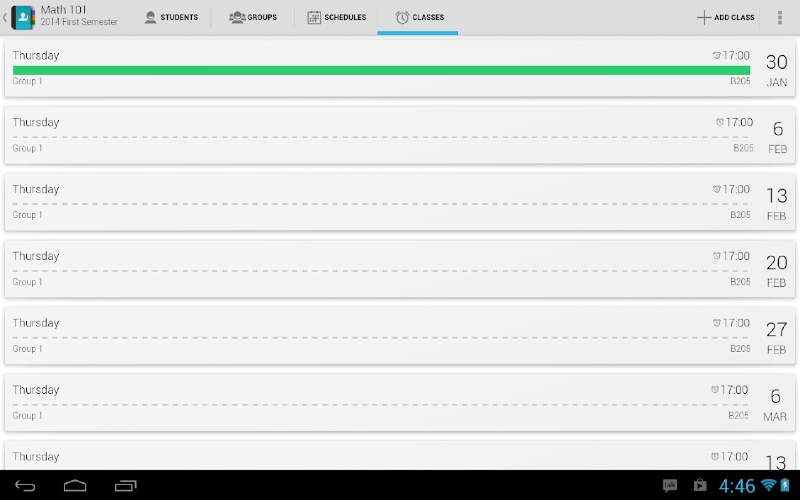 Attendance is an another best app for college or school teachers that want to take attendances in their classes using their android devices. This time and attendance tracking software of Android allows you to create groups of students with different schedules. You can Export attendance data to CSV & HTML. Attendance status can be configured for each occurrence and are Present, Absent and Late by default.
3. Attendance Taker
The Attendance Taker is an app for academicians, instructors and school teachers to Easily take attendances. It is a user friendly and open source software. Look at statistics and weekly attendance percentage of students in cool graphics. You may also import students list from an xls (Excel) file and Keep history of all your students or teachers.
Keep history of all your attendances
Look at statistics and weekly attendance percentage of students in graphics
Get the whole attendance list in Excel format.
4. Attendance Master
Attendance Master is an another best attendance tracking app for android and iOS platform and ideal for small business owners, Either you run a small business or you are a house wife, this app makes your work easy. With this app you can Add all your Employees and mark their Attendance Daily. Also Send Notifications to one, multiple or all employees instantly and Reporting Employee Attendance Data on Daily, Weekly and Monthly basis. Attendance Master also support Cloud Data Storage feature.
5. Employee Time
Employee Time is a premium App for tracking your employees with 100% accuracy even in offline mode or poor Internet Connectivity. With this app, you can track your employee in four ways which include User ID, Time, Selfie, Location. Track field staff visits with photo, time and location. Even construction site, factory workers can easily punch Time in & Time out.
Note: Please keep save or bookmark this website on your Browser. If you think that, "best Attendance app for android" post is useful to you, Please share this link with your friends and family member on facebook, twitter or other social media platforms.
Do you know any other best attendance manager pro app? Must share with us using the comment box below.