Every Operating System supports different file format. Android Operation system supports its own application format such as ".apk" (Android application format), whereas Tizen Operation system supports its own application format such as ".tpk". You cannot install .apk file in Tizen-based devices. in this article, we will discuss about file extension for ios, android, tizen, kaios, windows phone.
What is File Extension
A file extension is the ending of a file that helps identify the type of file in operating systems and file extension is the group of characters, usually 3 or 4 in length, In Microsoft Windows, the file extension is a period that is often followed by three characters, For example, the file name "PhDresults.DOC" has an extension of ".DOC", which is a file name extension associated with Microsoft Word.
What is the file extension of iOS/iPhone apps?
.ipa file extension is used for Apple iOS application file and Each ".ipa" file includes a binary for the ARM architecture and can only be installed on an iPhone or iOS-device. Full form of .ipa file is iOS application archive file and It is usually encrypted with Apple's FairPlay DRM technology. I already know that this is a zip file, so you can be uncompressed all .ipa extension file by changing the extension to .zip and unzipping.
What is the file extension of Android apps?
Android is the world's most popular and open source mobile OS. Android users download more than 1.5 billion apps from Google Play each month. We already know that the file extension name of google's Android OS is .apk (Android application package). So APK is the package file format used by the Android OS for distribution and installation of smartphone apps. APK files are a type of archive file, specifically in ZIP format based on the JAR file format.
What is the app extension for KaiOS
KaiOS is a popular operating system for feature phones, which is based on Mozilla's open source B2G OS. The apps are built purely with HTML/JS/CSS stack and any web application or website that is mobile friendly can be an Kaios app with just little modifications. So kaios app does not have a special file extension like Android or iOS app.
What is the file extension of Windows mobile OS apps
Microsoft windows mobile OS based on XAP files and Appx files extension. AppX file approach is particularly effective for distributing application suited for multiple devices, including personal computers, mobile and tablets. Where XAP is the file format used to distribute & install application and middleware onto Microsoft's Windows smartphone 7/8/8.1/10 OS.
What is the file extension of Tizen OS
tizen is a Linux-based mobile operating system, which is developed by Samsung electronic. it is work on open source platform and primarily used on platforms such as phones (Samsung Z-series smartphones), wearable devices and smart TVs as well. although tizen OS is follow "tpk" file extension.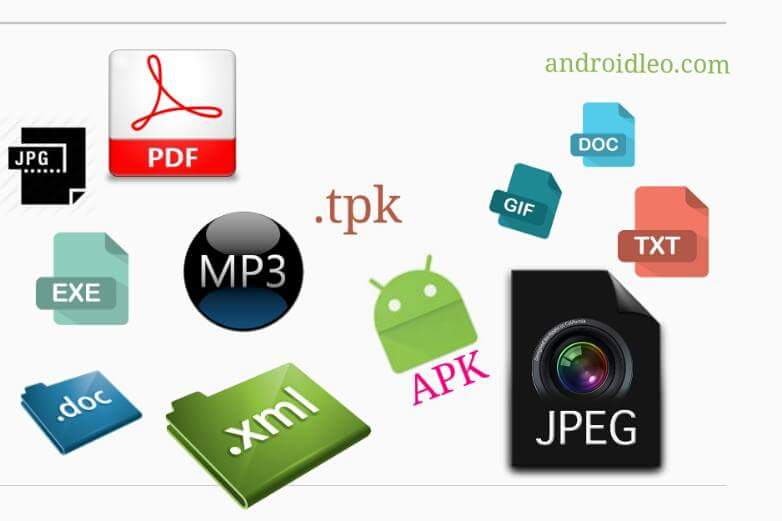 list of File extensions related to mobile OS and mobile application
sis– Symbian installation file
obb– Google Android opaque binary blob file
nbu– Nokia PC Suite 6.82+ backup file
vsm– Blackberry data file
cdb – Symbian OS contact database file
min– Minute Maker file
vcf– vCard file
crypt8– WhatsApp Messenger message database file
pkpass– Apple Passbook pass file
npf– Samsung PC Studio phone book backup file
sisx– Symbian OS program installation executable file
pit– Samsung firmware file
oap– Samsung bada signed installation package file
n3a– Nokia 3D screensaver
tpk– Tizen application package
mobileconfig– Apple iPhone mobile configuration profile
pbb– Mobile phonebook file
Most common File Extension of daily use application and software
mp3 MPEG player 3
GIF graphics interchange format
PNG portable network graphics
JPEG joint photo graphic expert group
XIS excel file
PDF portable document format
doc world file
mp4 MPEG PLAYER 4
AAC Advanced Audio Coding