Everything on Android can be customized, you can customize every single part of your Android phone like – style of clock, date, weather and lots more. many people grace his
home screen with different different widgets
, today we're talking about Android clock widgets. There are tons of clock widgets available on Android market, — do not worry, Here's the list of most powerful
clock widgets apps that you can be download
on your Android phones and tablets.
Also Read: Best 3D Gravity Launcher Apps for Android Devices
Best Clock Widget for Android Tablet and Phone
1- Sense Flip Clock & Weather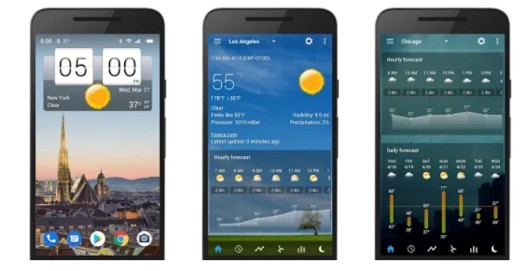 The Sense Flip is one of the best clock widget on android. it has all ingredients which allows you to control everything single element of home screen like notification, clock fonts, change skin, weather update (Humidity, pressure, rain, temperature).
This app have three widget sizes including 4×1, 4×2 and 5×2. the Sense Flip get around 4.5 Star ratings due to very nice layout and it has a great interface and lots of flexibility.
Minimalistic Text Widgets
Minimalistic Text is a widget app that displays miscellaneous information like – time, date, battery, and weather in a minimalistic way. in other words, the minimalistic text is the best clock widget including weather widget, battery and date widgets. It is one of the most Customizable widget app, The layout of the widget app is highly customizable through the layout editor and you'll spend almost as much time on customizing this widget as you spent on pimping your phone's home display.
2- Chronus: Home & Lock Widget
Chronus is one of the natural Customizable clock widget. This clock app offers not only time but also show your table/
phone battery status
, Text Messages, Missed Calls, and weather information. This widget app makes the system use less battery and GPU friendly, while still providing rich information to the user. You can download this clock widget on Android Wear devices.
You can Backup and restore widget settings. it is fetched weather information from Yahoo panel, the app's colors and font size also changeable. The Pro version of this app is also available, by purchasing it, you can unlock the Pro version and access all its features and make the screen of your smartphone even more attractive.
3- DIGI Clock Widget
DIGI is one of the best free Clock Widget on App store with classic and large clock fonts. I've also set it up on you large screen 8-inch android tablet for largest time preview. It clock widget app comes lots of editing tools for customization such as shadow effect, outlines of time, transparent setting from zero to 100%.
4- UCCW – Ultimate custom widget
The UCCw is a unique widget which allows you to make your own widgets. You can create custom analog clocks, battery and weather info widget, this app comes tons of customization tool for edits such as graphic, size, color and more. It's also offers a WYSIWYG editor allowing to customise layout, fonts, images, shapes.
Download: UCCW
5- onca Clock Widget
onca Clock Widget is a best Minimalist clock app for your Android tablet and phone. the app offers a nice combination of digital clock and analog clock. You might find reading the time a little bit difficult, but the widget brings an elegant, clean and modern style to your home screen. You can customize all elements of the clock such as Font size, adjusts color and Transparency. It also shows current day on the home screen. This app Requires Android 4.1 and all upper version.
6- DashClock Widget
The Dashclock widget is the hero of Personalization category and one of the most enduring Android widgets out there. It's is a best transparent clock widget with a simple and clear view that displays information like the weather, Missed calls, your unread text & Gmail messages, your next alarm, and other notification. there are enough customization options to keep you from getting bored.
The dashclock widget runs on Android 4.2 and up. It is the true winner in the minimization of app size, the apk size of this clock app is only 1.9MB.
Also Read: Best Contact Manager Apps on Android Store 
Note: Please keep save or bookmark this website on your Browser. If you think that, this Article or post is useful to you, Please share this link with your friends and family member on facebook, twitter or other social media platforms. Thank you for providing us your valuable time by staying with us.