Samsung is working on its next SoC which will be the Exynos 1000 and according to the news this processor will also outperform Snapdragon's 875 chipset in performance. It also means that the performance of the South Korean tech giant flagship will surpass the performance of all top-of-line handsets, which use Snapdragon 875 chipsets.
The reports so far were based on Geekbench results that were pulled from the database before we could confirm that they were allowable.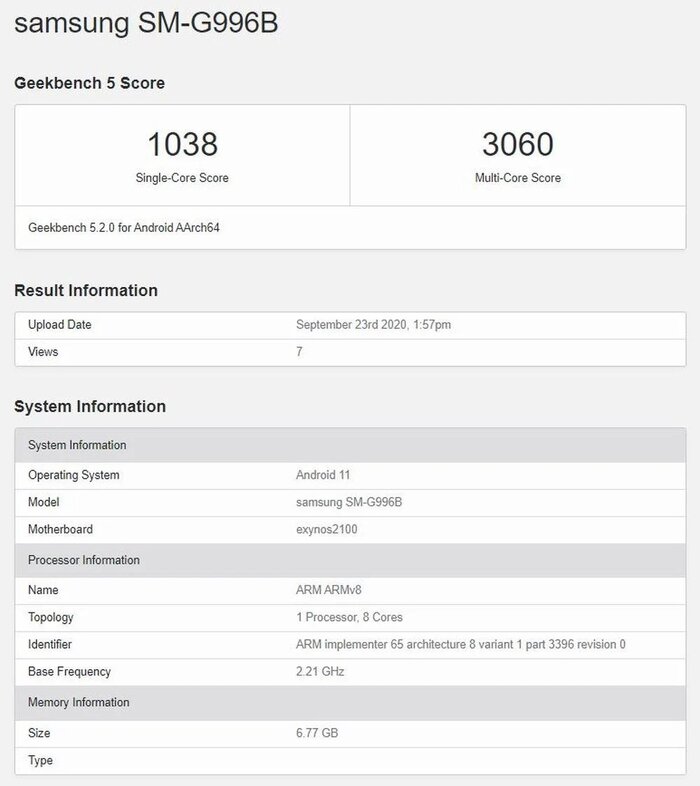 Now the result of Geekbench which should have the Samsung Galaxy S21 and the model number SM-G996B (likely the Euro version) was seen in a score of Geekbench 5 and the test has been done on android 11 version.
The smartphone is described as being an Exynos 2100 motherboard and has the following specific identifiers: ARM Implementer 65 Architecture 8 Version 1 Part 3396 Revision 0. In the benchmark test, you can see 8 cores are shown but how it will work is not clear.
According to leaked information, which is shared by a user on twitter, here only details about the number of cores present in Samsung's Exynos and Qualcomm's chip has been revealed, The user mentions that both the Exynos 1000 and snapdragon 875 chip will come with a 1 + 3 + 4 core configuration, Which means that it relies on one main core, three performance cores and four energy-saving cores. But here a big question arises that if both chipsets have the same characteristics then how will exynos outperform Snapdragon in performance?
The Exynos 1000 appears with a clock speed of 2.21 GHz and is packed with 8GB RAM, as the Samsung s21 will be in its initial state right now, then it will have additional RAM variants.
The Galaxy S21 scored 1038 in single-core test and 3060 in multi-core test. if compared to the Phone powered by Snapdragon 865+ SoC, it is not much, as the Samsung's Note 20 Ultra 5G (Snapdragon 865+ variant) is about 960/3050 points in single/multi-core tests.
Another important point is that Samsung S21 is still a long time to be launched, and it is also on its development path due to which low score on Geekbench is relative, Maybe galaxy S21 can see some improvement in its score on its final stage.
Also read : Exynos 2200 SoC SoC specification
It is also likely that this benchmark score is fake. There is no way of determining its validity at this time. We will update all the news related to Exynos 1000 here. We also suggest you to reserve some doubt for these initial bits of details and benchmark results.
May you also like : List of Samsung Exynos 990 Phone