Samsung has released One Hand Operation+ on Google Play Store so that Galaxy phone owners to take advantage of one-hand gestures. This app is best for Samsung Galaxy Note series phones and large display devices. The Samsung One Hand Operation+ already has a decent set of features that makes it great for one-handed operations.
Samsung One Hand Operation Plus apk Download
We know that you are here to Download one hand operation + after that you can download one hand operation apk file from the link given below. Here the old version has also been included which is similar in functionality as well as available in lesser size so that it is able to run on old android smartphone also given below 2 to 3 year old version of Samsung One Hand Operation Plus Which you can download and install on your smartphone through the given link.
Download One Hand Operation 3.3.15.0 APK | 2020
Download One Hand Operation 2.7.13.0 APK | 2019
Download One Hand Operation 1.4.03.0 APK | 2018
How to use one hand operation in Samsung Galaxy Smartphones
Samsung has made a UI optimization app that allows you to handle large screen smartphones very comfortably. Unfortunately, this app is only available in the United States, Australia, Korea and Singapore. If you are not a resident of these country, then you have to install Nova Launcher on your phone to run this one hand operation + on your phone. After downloading the launcher app you don't have to run this launcher on the device.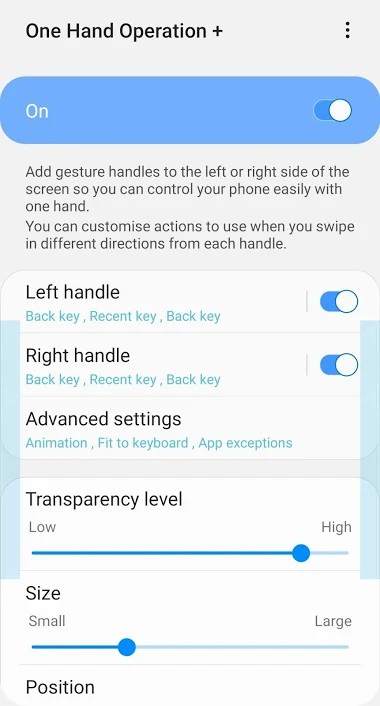 Now you have to open the One hand Operation+ app and here you will find many options, so you can control your handset easily with one hand. After enabling, you get the option of left handed, right handle and advanced settings at the top. The app allows both sides of the screen to be used as gesture triggers and. However, you can at least do different tasks on both sides. If you want to turn on gestures for the right hand, by default you get three options in the right handle: a horizontal swipe in the left, a diagonal swipe up, and a diagonal swipe down.
Which function you want to add in these three gestures depends on you, in this app you get a long list of functions, of which Back key, Recent Key, precious app and screen off are the main ones. On this app, many settings are available to make your gesture even more accurate such as touch width, swipe distance and more.
in addition, you can download this app from Play store here(Latest version).