You can have many reasons to know the IMEI number of your Samsung phone but we remember the IMEI number of your phone only when our phone is lost and this guide will help you to know the IMEI number even without your Samsung phone. There are many ways to do this and here you can find the IMEI number of your Samsung smartphone through a few easy steps.
Before we begin all this, we have to know a little bit about the IMEI number. Basically, IMEI (International Mobile Equipment Identity) is a 15-digit serial number given to every smartphone and that is not limited to mobile phone, each device that uses a mobile network such as a tablet, laptop, etc. Which can later be used to check information such as the phone's country of origin and manufacturer.
Why do I need to know IMEI Number?
One thing common about EMI number is that it is connected to the hardware of the device and it is possible to change it later and below are some reasons why we should know the IMEI number of our phone.
If you lost or stolen your mobile device, then you can ask your service providers to block your IMEI number.
It may be used for warranty reasons.
you want to sell your phone then the buyer of the phone will want to check through the IMEI number, whether it is a stolen phone.
How to Find IMEI number without having the Samsung device
We have mentioned above how important it is to know about IMEI number, so whenever you buy a new device, its IMEI number should be written somewhere safe. There is another place also, when you buy a phone, we like to run the phone more than its manual and other information, so the your original packaging of your phone is also another source of IMEI number, Where a 15 digit IMEI number is mentioned on a chit or sticker above the box. If you are one of those people who do not take care of their box and throw the cover-box out after some time, then in another way below you can find the IMEI number without the Samsung phone.
Check your Android device Manager for IMEI number
So far, your work has not been done, then in another way on your Samsung device you can search the IMEI number with some easy steps. for which you have to login your Google account which you have registered on your android mobile on another device (Laptop / desktop / other smartphones). go to the URL given below and follow the step below.
 Sign in to your Google Account.
then open find android phone URL
Here you will get the information of the phone connected to this account, an info-icon will appear besides to the name of the phone and on clicking it you will see the IMEI number in the device information. you can also refer to the screenshot shown below for further assistance.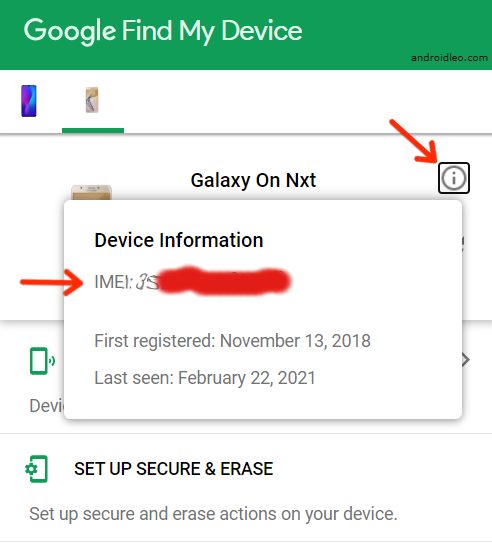 The above mentioned option will not be of any use to you, if the internet facility is not on the phone, then you can also get the IMEI number of the phone offline. For this you can find the IMEI number from the packaging of the phone box, however if you currently have your Samsung phone, you can get the IMEI number by typing *#06# in the phone's dialog and keep it for future.
Also Read : Download Samsung Galaxy Phones Wallpapers 1080p resolution