Samsung's Galaxy smartphones are liked all over the world, including Europe, but there are complaints from people here that why the company is using a Exynos chipset instead of Snapdragon in its flagships. The first reason for this is the cost-effectiveness of Exynos sticking to Qualcomm's processor.
India is a very important smartphone market for Samsung and is a company in which both the company's budget and flagship phones are very well liked, although despite being heavily dominated by the budget segment of Chinese smartphones in India, Samsung's smartphones still are very popular among users due to the excellent configuration of the software and hardware.
as we previously praised about Samsung phone's hardware, This is true for a budget phone, but it does not fit properly in the Samsung flagships device (for S-series and Note-Series), or maybe Samsung can do a lot better here but makes some cuts for India.
As we know, Samsung designs its own Exynos chipset that are used in its smartphones as well, but those using Exynos processor versions of Samsung phones are not happy. That's because now there's a petition on Change.org that claims the Exynos SoC chipset laden Samsung devices as 'inferior'.
For a long time, Samsung has been using two different processors in its flagship Galaxy Note series and Galaxy S series devices for different countries, and it's all running since galaxy S2. So why does Samsung do this and what is the difference?
It is obvious that Samsung develops and manufactures its Exynos chipset, which reduces the cost of making smartphones running on its chips, although there are savings involved, but the company can use its flagships price more smartly than other companies which use snapdragon chip, but a lot of it also has to do with markets and existing support. so far, markets like the US, japan and china get the Qualcomm Snapdragon version, almost all Asians countries such as India, as well as European nations get the Exynos variant.
Recently Samsung unveiled its S22 series which is being made available on two different processors, where its Exynos variant is being launched in Europe, Southwest Asia and Africa. The same Snapdragon variant will be given in USA, Japan China, India and South Korea. additionally, Samsung has done the same last year, with Galaxy Note 20 and Galaxy S20 lineup released with two processors in which the exynos variant was launched in India, Europe. while the Qualcomm Snapdragon variants were delivered in UA and China.
The difference between Exynos and Snapdragon Chipset
The Exynos vs Snapdragon topic has been in discussion for many years and here we will find the difference between Samsung's in-house the Exynos 990 and Snapdragon 865 Plus silicon. for all that, Samsung flagship devices powered by the Snapdragon mobile platform are performing better than the same flagships powered by company's in-house Exynos chipset.
Talking about same obvious difference: the Exynos cores are clocked at lower speeds than the Snapdragon cores. other biggest difference, Exynos chips use the ARM Mali graphics processor while the Snapdragon supports Adreno GPUs.
To see the difference in performance of both chipsets, we look at the results of Qualcomm's latest Snapdragon 865+ and exynos 990 and both these chipsets are also rivaling each other. to take everyone to the last moment, we take Samsung's Note 20 series, this result was revealed in the comparison of the Exynos and Snapdragon processors of this phone, in which Snapdragon has been far ahead.
Exynos vs Snapdragon : Qualcomm wins this race by far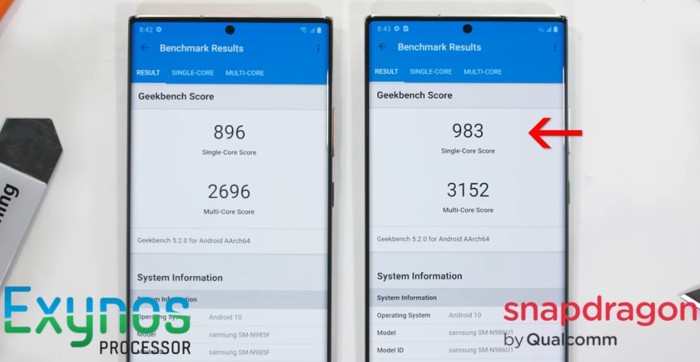 in Geekbench's benchmarking result of Samsung Note 20 handset, The Snapdragon version scores 983 in the single-core test and 3152 in the multi-core test, while the exynos version scores 896 in the single-core test and 2696 in the multi-core test. This is 87 points more for single core score and 456 marks for multi core score.
If you own a Samsung flagship phone and are curious to know which CPU is put in it between Exynos or Snapdragon, then you can get the information about the CPU of the phone by clicking on the article below
Also Read : how to check Samsung Galaxy phone's CPU details