Today privacy and Security both are essential for all fields that connect to the internet such as smartphone, laptop, desktop, tablet etc. This generation is totally depends on smartphone we are do all day-to-day tasks like banking, online shopping, video chatting, transfer confidencial file, as well as bill payment with the help of Internet.
The privacy and security apps both are very important not only for laptop but also the smartphone, because These days people spend large time on phones compared to personal computer and store all important files on the mobile. Here are some of the privacy as well as best internet security apps that protect your smartphone from malware, virus, and Also prevents online identity from the bad person.
Also Read : 11 Best Free Antivirus Apps for Android Smartphone [Updated]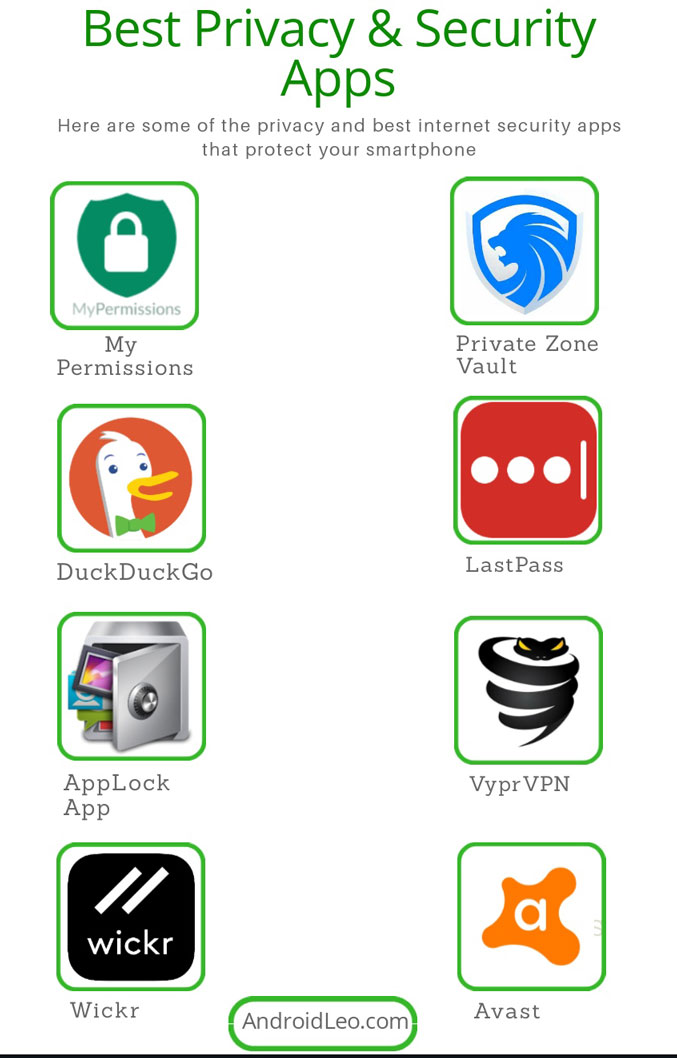 Top 10 Security and Privacy Apps for Android
1. MyPermissions
You don't know how many apps are uses your private information online. Some apps can access your pictures or contacts, use your location without your permission. The MyPermissions allows you to take control back and also gives information about which applications are reading your personal information online. With my permissions, you can find out who is connected to your Facebook, Google, Twitter, and is using unnecessarily. Identify which data the apps are accessing, and then approve or remove them.
Download : MyPermissions
2. Private Zone Vault
The Private Zone is a most advance privacy vault app for Android which protects your private information in the encryption form. It has a secure file chest that make a private space for all types of file. With this app you can hide personal application such as whatsapp, gallery, browser by using app hide features. Besides, there is a Phone Booster by which you can clear junk and cache files of Android phone. This security guard comes with many awesome features, which are listed below.
Private Browsing: Surf favorite sites on secure mode.
Free VPN: mask your IP address and GPS location.
Hide Videos: Protect secret videos from prying eyes.
AppLock: lock your important app through password or fingerprint.
Download LEO Private Zone Vault
3. DuckDuckGo
Most people do not know that DuckDuckGo is a search engine, and who knows, they ask why it is here. If you compare Duckduckgo and Google, Duckduckgo is a search engine app that does not track your location, nor does it collect your private information. Companies are making money off of your private information online without your consent. Without your permission, companies are making money from your personal information online. Where duckduckgo is a right place to search on online safely and it also protects your web privacy.
Download: Duckduckgo privacy engine
4. LastPass Password Manager
Lastpass is a great privacy app that offers many major online privacy protection capabilities. The lastpass allow you to create secure password of every online account, it stores all your passwords in a vault, and mask your credit card (debit card) number to prevent fraud. You can also use the fingerprint password activation feature for unique biological security. This app keeps all your types of confidential password safe and does not have to remember them.
Download : Lastpass (free)
5. VyprVPN
VyprVPN has to be one of the most popular VPN apps for Android devices today. This Virtual Private Networks is extremely useful, as it not only let you access geo-locked content and also hide your real location. it bring privacy to your internet use between the risks related to online security. Firstly, the app includes tons of features such as the encrypted internet connection, encrypted VyprDNS, and more. This app allows you to choose your favorite virtual locations from seven different places around the world.
Download: VyprVPN
6. AppLock security app
It is the oldest privacy app with more than 300 million users and is available in 32 languages. This can help you stay safe, even if your Android device is stolen. This app enables you to lock your personal apps like Facebook, Gmail, Gallery and any other app. With this App Locker app you can also hide the photos and videos of your device that you do not want others to see. The app comes with new fingerprint lock features that relieves the process of repeatedly entering the password.
Download: Applock
7. Wickr
It is a most trusted messenger on the Android app Store. with this app you can send messages via private peer-to-peer encryption and only the receiver is able to decrypt the message, even app developers are not able to decrypt your message. So it is best way for send or share unofficial information, private media, important files.
Download: Wickr secure messenger
8. Dr.Web Security
Dr Web is one of the most advanced internet security app available on the Play Store today. This app has enough methods to protect you from the dark part of internet. firstly, The app filters the URL and then blocks the websites that distribute the virus. Overall, Dr. The web is a great Internet security application, when you connect to the internet, it creates security shield .
Download : Dr.Web antivirus (free)
9. Avast mobile Security
Avast is a very feature rich internet security app on Android's app Store. It is an oldest and very trusted antivirus on windows PC as well as the mobile platform. It has largest Antivirus search Engine that secures against viruses or spyware. The antivirus app helps you to scan installed apps and SD card content. If you buy license of pro version, you'll access more features including app locking, geofencing, and remote data recovery.
Download : Avast security (free)
10. Safe Security
The 360 security is one of the highest rated security apps available on the Play Store. This security app includes tons of features like- Junk File remover, SDcard scanner, Scan installed apps and Real time protection.
The app keeping your smartphone secure from Trojan horse, malware, and spyware. Memory Booster is an another amazing feature that's boost mobile on one click.
Download : Safe security (free)
Also Read : Best Password Protection Apps For Android Phone.