If you searching an antivirus and Anti-Spyware app for your Android phone then here is the right place. An antivirus software provides extra security and privacy features as well as improve android smartphone security. It always protects against worms, trojans, viruses and other malware that can slow or even damage your smartphone. we decided to accommodate a list of best android antivirus apps 2022 [updated].
Also Read : 10 Helpful Tips to Prevent Smartphone Cybercrime
Best Free Android Antivirus Apps
1. Safe Security – best malware protection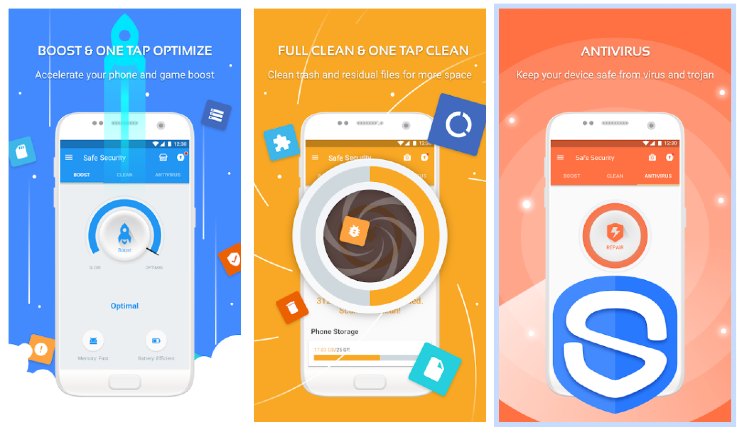 The Safe security is most popular antivirus apps with over 100 million downloads and 200 million trusted users, with 4.6 overall rating this is highly rated antivirus Android apps on Android market.
This Android antivirus apps comes with thousands of premium features such as Junk File Cleaner, phone and SDcard scanner, Scan installed apps and provide Real time protection. This antivirus app keeping your device safe from virus, malware, and vulnerabilities. Another cool features is Memory Boost that's all you One Tap Clean feature and boost mobile health.
Download : Safe security (free)
2. Security Master
Security Master is a free antivirus app that provides the best virus protection for smartphones. This antivirus application has been developed by Cheetah Mobile and earlier it is known as CM Security. This antivirus app wins many awards and ranked 1 by the AV-TEST many times. this app comes with tons of features to keep your phone safe. It has a cloud-based antivirus engines which Scan installed apps as well as the pre-installed apps. Security Master app also comes a cool AppLock feature with fingerprint sensor support. this app takes selfies of people trying to nose around in your business and privacy.
Download : Security Master (free)
3. AVAST Mobile Security
Avast is a big Brand of antivirus market and everyone recognize avast because this is very trusted antivirus on windows PC.  The Avast is another best antivirus on Android with 200 million installs and 4.4 overall rating. The antivirus app comes with many premium features like – in case of theft – Remote lock and memory wipe features. This lets you get rid of junk files like thumbnails and unwanted cache.
It has largest Antivirus Engine that secures against privacy phishing, spyware, and also scan SD card content. If you go pro, you'll get more features including remote data recovery, geofencing, and app locking.
Download : Avast (free)
4. Quick Heal security
Quick heal is best virus killer app for Android, this app enable you to scan all types of harmful virus from your smartphone, The antivirus engine scans the entire device to delete silent spy, autorun virus and other malicious programs. it also allows you an automatic Schedule Scan options that are full customized and flexible. When you lost your phone then Anti-Theft prevents your device from being misused by allowing remote lock and data wipe. Overall it is a stress-free antivirus app on Android's appstore.
Download : quickheal total security
Also Read : How to Transfer Quickheal Antivirus from one computer to another computer [Full Guide]
5. Bitdefender
The Bitdefender is an emerging security company and provide award-winning product. Bitdefender Antivirus is a lightest Android app that offers basic as well as advanced safety features. It can scan device with cloud scanning technology and catches more than 99% of viruses. This antivirus app also comes zero configuration which runs as light as this one does. This antivirus app runs Without slowing down your Android or draining your battery.
Download : Bitdefender (Paid/free)
6. Dr.Web Security

This antivirus application is working as a doctor for infected smartphones, even though malicious programs, Ranosware Trojan. The Security App has made this place for the first time in this "best antivirus app list" because its performance is fantastic. This app filter URL and Blocking of websites that distribute viruses. Overall Dr.Web Antivirus is a great software that needs security.
Download : Dr.Web antivirus (free)
7. Malwarebytes Anti-Malware
Malwarebytes built its reputation as one of the most lightweight PC protection application. And also built a reputation on Android OS with 4.2 overall rating on play store. This antivirus has enough features for protecting your smartphone or tablet. The main focus of this app provides best antivirus protection, malware scanning, and real-time protection. Overall Malwarebytes comes with effective antivirus tools in lowest Size & easy to use interface.
8. ESET Mobile Antivirus

The Eset is an up-and-coming antivirus app, that is hoping to be the major applications used for devices. The program is also available on computers and iOS. Now, this program is free to use, but there are extra features that can be buy with the Paid version, it is fairly cheap and has quite a few interesting features. meanwhile its premium version, will ensure that your device have more features and that your will be better protected. You can see all the pro features in the list below.
All freemium features
App Lock (PIN and Fingerprint)
Anti-Phishing
Proactive Anti-Theft
Scheduled Scanning
Automatic update of virus database
Download : ESET
Also Read : Top 9 Security Apps for Android Smartphone
9. AVG Antivirus

AVG AntiVirus app is most powerful antivirus app available on google play with Over 100 million people already installed AVG's mobile security apps. The features include the usual device scanning, app scanning, remove malicious content and real-time protection. Also, if you lose your device then you can block or wipe your information and locate your device on maps via Google Maps. Pay for the Premium Version, and you get a lot more features, such as App Backup, app locking and more.
When anyone fails 3 times to unlock your device, it will take a secret picture of them & then mail that picture to you.
Download : AVG protection (paid/free)
10. Kaspersky Internet Security

Kaspersky is an international security group and Kaspersky lab ranks fourth in the global ranking of antivirus. On Android Kaspersky free version offers all the standard Anti-Theft Protection, and Antivirus Scanner, while the paid version ($9.99 per year) gets Anti-Phishing, real-time protection, and Privacy Protection when you surf on the internet. This antivirus app is quite heavy so old smartphone face some problem by using the full version of this app.
Download : Kaspersky Internet Security (paid/free)
11. Norton Mobile Antivirus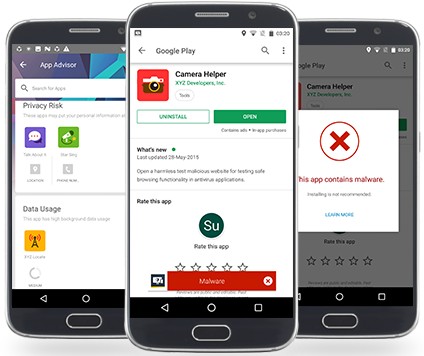 The Norton is an award winning security app on android mobile, It gives you all types of security from offline to online, due to which you do not have to worry. Here, in addition to providing you safe search while surfing the net, it protects you by keeping away from malicious and phishing sites. Although Norton app advisor have ability to automatically checks apps for privacy risks, high battery and suspicious data usage.
Download : Norton (paid/free)
12. Avira Antivirus Security
Avira is a one of oldest security brand on windows platform but on Android platform, Avira mobile Security is a relatively newer. its free version comes with the all basic security tool such as real-time protection, Scan external storage and installed apps where the paid version offers advance safety features. This app also embedding same extraordinary features like ANTI-THEFT tools, safe Browsing, Blacklist, and Stagefright Advisor to help you work around that particular vulnerability.
Download : Avira Antivirus (paid/free)